Sep21
Sometimes, a simple story could enchant you so much. When Shona Auerbach received a script about a nine year old hearing-impaired Frankie Morrison, she fell in love. This poignant tale about finding love on unexpected places and characters captivated her. She decided to take the story to a wider audience, and let Frankie recites his warm and touching letters to the world.
Dear Da.

Did you know something?
We're moving again.
Ma says it's time.
She says that it's definitely the last time.
But she says that every single time.
Nana says if there is a next time,
she will have to be carried out in a box.
And Ma says, don't tempt her.
And did you know something else, Da?
This time…
This time we're living right on the edge of the sea.
Right on the edge of the world.
Young Frankie Morrison (Jack McElhone) and his mother Lizzie (Emily Mortimer) had been moving from place to place since he could remember. Recently, Frankie, Lizzie, and his grandmother, Nell (Mary Riggans) moved to a coastal area of Greenock in Glasgow. They lived on a drab apartment, above a fish and chips store owned by Marie (Sharon Small).
Frankie never met his father. He only knew that his sailor father's name is Davey, an officer at the HMS Accra. The boy followed his father's journey by placing small red flags on the map, on every city he passed. They exchanged letters, in which Frankie expressed his fondness of marine life and excellence on Geography.
The sweet little connection Frankie and Davey had, sadly, was nothing but a made up story. Unbeknownst to Frankie, all the letters Davey sent actually came from his mother. Lizzie Morrison had been running from his real husband, an explosive and violent character that had threaten their lives in the past.
Frankie who is not aware of the family's tragic history, suddenly burst into joy, knowing that HMS Accra was about to dock in Glasgow. The confused Lizzie, faced with the option of bringing about the hurtful truth, or hiring someone to pose as Davey for one day, finally decided to take the least damaging option. With the help of Marie, Lizzie met the Stranger (Gerard Butler), a crew at HMS Accra that is willing to play the role for a sum of money.
The story was played beautifully by the cast. Dear Frankie gently narrates a heartbreaking story about painful past and the sacrifices one made for their loved ones. It never failed to avoid being an over dramatic tearjerker. The movie sailed quietly over the uneasy dynamics between Frankie, Lizzie, and the Stranger.
As a result, their collaboration won the heart of the viewers, and a standing ovation in Cannes Film Festival.
Here are Five Things about Dear Frankie:
1. 15 MINUTES
The story was originally developed as a short feature movie. Apparently, Auerbach thought that the story deserved more than just 15 minutes screening. And then, Andrea Gibb took the short narration, and turned it into a 105 minutes full feature movie.
The movie was set in Greenock. Auerbach maximized the town's beautiful landscape in her movie by portraying the fine views over the Clyde estuary, to the mountains of Argyll.
With 105 minutes, Auerbach and Gibb had the chance to explore the characters more. Not wanting to create a sappy movie, the director relied on Gerard Butler to portray a natural character. Butler's performance injects a necessary abrasiveness just when the film risks slipping into sappiness, in the encounter of stranger and child. He's almost relentlessly impassive, the very opposite of easy prey to the charm of perky nine-year-olds, and his rigidity hints at the character's terror of the consequences of showing any emotion whatsoever. The performance serves as a foil to Mortimer's, whose constant, fleeting movements and sharp delivery create a Lizzie visibly on the verge of disintegration.
2. SHONA AUERBACH
Shona Auerbach made her first short movie, Seven, in 1996. The short movie gained fame, and won her awards from the Munich International Festival of Film Schools, the Montecatini Filmvideo International Short Film Festival (Spain), and the Capalbio Cinema International Short Film Festival (Italy). Since then, she had been working as a full time director, and made numerous commercials.
Dear Frankie is Auerbach's directorial debut. The movie was a success, it won the audience award for best international feature at the Los Angeles Film Festival, and also became Cannes Film Festival's Official Selection. She also had her share of success, by being nominated for the BAFTA Award for Best Newcomer and the BAFTA Scotland Award for Best Director.
The British director/cinematographer's life mostly revolved around the movie industry. Being on the set and working with actors had became her way of life. She also married Graemme Dunn, who worked as a cameraman.
3. EMILY MORTIMER
Emily Kathleen A. Mortimer was born on December 1st, 1971. The British American actress began her acting career by performing in several plays while studying at Oxford University. While acting in a student production she was spotted by a producer who later cast her in a supporting role in a television adaptation of Dame Catherine Cookson's The Glass Virgin (1995). Her first film role was opposite Val Kilmer in 1996′s The Ghost and the Darkness.
In 2000, Emily met American actor Alessandro Nivola, while both were starring in Love's Labour's Lost. The couple married on January 3, 2003. Emily gave birth to her son, Samuel, on September 23, 2003.
Her well known works includes, Scream 3, Match Point, Lars and the Real Girl, and Shutter Island.
4. JACK McELHONE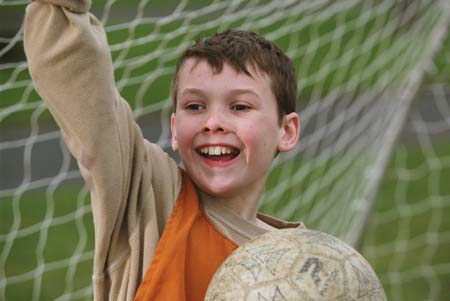 Jack McElhone (born 1993) is a Scottish actor. In the UK, he first appeared in Young Adam as the son of Tilda Swinton and Peter Mullan. He is famous for his role as Frankie in the 2004 movie Dear Frankie, for which he was nominated for a BAFTA Scotland Award.
Since then Jack has gone on to appear in the UK series The Book Group (2002-03) and the telefilm Stacked (2008) and Nowhere Boy, a chronicle of John Lennon's childhood.
5. LIE TO ME
The movie faithfully followed Lizzie through the ritualistic steps that sustained the fantasy of Frankie's sailor father. She would collect Frankie's letters from a P.O. box, visit a Glasgow philatelist for an exotic stamp, and finally, composed Davey's fake letter for her son. We realized that she was somewhat addicted to the routines. This exchange of letters would be the only time she will ever "hear" her son's voice, and if she was forced to confess the truth, that vital lifeline will vanish. It kept her going, and opened the story to a more complicated plot.
Indeed, Dear Frankie's most problematic theme would be the lies.
The story explored the depth of a mother's love to her child. Lizzie's affection towards Frankie forced her to do something that is ethically debatable. Is it okay to lie to your child? Would it be acceptable to cover up some facts and made up new ones if it would help your loved ones cope with the cruel history of their life?
The movie didn't try to judge or brutally explain Lizzie's motives, but it was slowly unraveled through the accumulation of dialogues and gesture. Auerbach steered away from the Hollywood cliches, bringing the audience to develop empathy for Lizzie than pitying her instead.
Even so, the bright nine years old Frankie Morrison knew better. He accepted his mother's unorthodox means of protection, and embraced a newly found paternal bond with a stranger he knew wasn't his real father. The story ends with a smile, and a sentimental letter.
Anyway, I've got to go now.
My dinner's ready.
I hope it's not chips.
I've had them three times this week.
Maybe you'll come and see us one more time.
Maybe next time your ship docks.

Your friend.
Frankie.
Sources:
"Dear Frankie"
"Dear Frankie"
"Scotland: The Movie Location Guide – Dear Frankie"
"Long Lost Cinema: Dear Frankie"
"I Had a Lot of Anger about Not Spending My Childhood with My Father"
"Dear Frankie (PG-13)"
"Interview – Emily Mortimer"
"DVD Review: Dear Frankie"
"Dear Frankie (2005)"
"Dear Frankie – DVD Review"
"Dear Frankie Script – Dialogue Transcript"
"Dialogue with Shona Auerbach"
"Q&A with Director Auerbach"
"Teen Stars Online Jack McElhone"
"Admiring Emily Mortimer – Biography"
Dear Frankie DVD:
Dear Frankie is a movie you must watch. If you're interested in collecting Dear Frankie DVD, you can check it out here. No, I'm not paid to advertise this. I don't have any recommended place to buy/rent DVD online. Any suggestion? I could use one myself.
Dear Frankie in Amazon.
Dear Frankie in Netflix.
Dear Frankie in Blockbuster.
Dear Frankie in Buy.Com.
Related posts: