Sep22
There are a lot of options you can choose when you walked in to your local movie theater. If you're the picky type, it would be easy to decide which movie to watch, and which one you should avoid. The less picky ones may have wider preference regarding the movies they want to see. If you haven't really decide yet what to check next month, you can take a sneak peek of our October pick.
These are Five Things' recommended movies of October 2010:
1. THE SOCIAL NETWORK
Director:
David Fincher
Writers:
Aaron Sorkin (screenplay), Ben Mezrich (book)
Cast:
Jesse Eisenberg (Mark Zuckerberg)
Andrew Garfield (Eduardo Saverin)
Rooney Mara (Erica Albright)
Brenda Song (Christy Lee)
Rashida Jones (Marylin Delpy)
Justin Timberlake (Sean Parker)
Tagline: You don't get to 500 million friends without making a few enemies.
Genres: Drama, history
Rating: PG-13 for sexual content, drug and alcohol use and language.
Release Date: 1 October 2010 (USA)
The remarkable story behind Facebook comes to the big screen with this Columbia Pictures production scripted by The West Wing's Aaron Sorkin and directed by David Fincher (Fight Club, Zodiac). The year was 2003. Computer programming wizard Mark Zuckerberg (Jesse Eisenberg) was a Harvard undergrad when he laid the foundation for a social networking website that would revolutionize the way we communicate. Six years later the ambitious entrepreneur made his first million — but that was just the beginning. Despite all of Zuckerberg's wealth and success, his personal life began to suffer as he became marred in legal disputes, and discovered that many of the 500 million people he had befriended during his rise to the top were eager to see him fall. Justin Timberlake co-stars as Napster co-creator Sean Parker, with Andrew Garfield filling the role of ousted Facebook co-founder Eduardo Saverin. The Social Network is based on the book The Accidental Billionaires by Ben Mezrich.
2. LET ME IN
Director:
Matt Reeves
Writers:
Matt Reeves (screenplay), John Ajvide Lindqvist (screenplay)
Cast:
Kodi Smit-McPhee (Owen)
Chloe Moretz (Abby)
Richard Jenkins (The Father)
Cara Buono (Owen's Mother)
Elias Koteas (The Policeman)
Tagline: Innocence dies. Abby doesn't.
Genres: Drama, fantasy, horror, romance, thriller
Rating: R for strong bloody horror violence, language and a brief sexual situation.
Release Date: 1 October 2010 (USA)
Twelve-year-old Owen (Kodi Smit-McPhee) is viciously bullied by his classmates and neglected by his divorcing parents. Achingly lonely, Owen spends his days plotting revenge on his middle school tormentors and his evenings spying on the other inhabitants of his apartment complex. His only friend is his new neighbor Abby (Chloe Moretz), an eerily self-possessed young girl who lives next door with her silent father (Oscar nominee Richard Jenkins). A frail, troubled child about Owen's age, Abby emerges from her heavily curtained apartment only at night and always barefoot, seemingly immune to the bitter winter elements. Recognizing a fellow outcast, Owen opens up to her and before long, the two have formed a unique bond. When a string of grisly murders puts the town on high alert, Abby's father disappears, and the terrified girl is left to fend for herself. Still, she repeatedly rebuffs Owen's efforts to help her and her increasingly bizarre behavior leads the imaginative Owen to suspect she's hiding an unthinkable secret.
3. SAW 3D
Director:
Kevin Greutert
Writers:
Patrick Melton, Marcus Dunstan
Cast:
Tobin Bell (Jigsaw / John)
Cary Elwes (Dr. Lawrence Gordon)
Costas Mandylor (Mark Hoffman)
Betsy Russell (Jill Tuck)
Sean Patrick Flanery (Bobby Dagen)
Tagline: In eye-popping 3D.
Genres: Horror, mystery
Rating: R for sequences of grisly bloody violence and torture, and language.
Release Date: 29 October 2010 (USA)
The Saw series continues with this seventh entry, spearheaded by returning Saw VI director Kevin Greutert. Marcus Dunstan and Patrick Melton  also are back to pen the script, which details the exploits of serial killer Jigsaw's surviving victims, who seek counseling from a self-help mentor, Bobby Dagen (Sean Patrick Flanery), whose past as a previous victim figures directly into each one's fate. Cary Elwes returns to the franchise for the first time since his character survived Jigsaw's first cinematic outing in 2004.
4. RED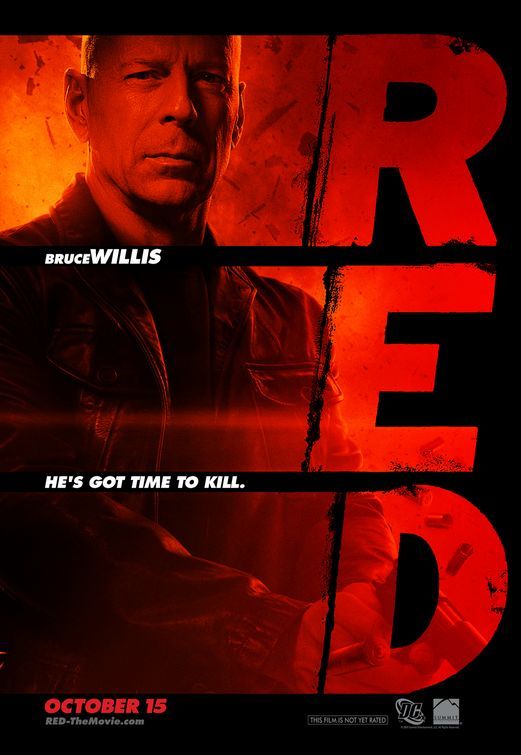 Director:
Robert Schwentke
Writers:
Jon Hoeber (screenplay), Erich Hoeber (screenplay)
Cast:
Bruce Willis (Frank Moses)
Karl Urban (William Cooper)
Morgan Freeman (Joe Matheson)
Mary-Louise Parker (Sarah)
John Malkovich (Marvin Boggs)
Helen Mirren (Victoria)
Richard Dreyfuss (Alexander Dunning)
Brian Cox (Ivan Simanov)
Julian McMahon (VP Stanton)
Ernest Borgnine (Henry)
Tagline: He's Got Time To Kill.
Genres: Action, comedy
Rating: PG-13 for intense sequences of action violence and brief strong language.
Release Date: 15 October 2010 (USA)
Based on the cult D.C. Comics graphic novel by Warren Ellis and Cully Hammer, 'Red' is an explosive action-comedy starring Bruce Willis, Morgan Freeman, John Malkovich and Helen Mirren.
Frank (Bruce Willis), Joe (Morgan Freeman), Marvin (John Malkovich) and Victoria (Helen Mirren) used to be the CIA's top agents–but the secrets they know just made them the Agency's top targets. Now framed for assassination, they must use all of their collective cunning, experience and teamwork to stay one step ahead of their deadly pursuers and stay alive. To stop the operation, the team embarks on an impossible, cross-country mission to break into the top-secret CIA headquarters, where they will uncover one of the biggest conspiracies and cover-ups in government history.
5. INSIDE JOB
Director:
Charles Ferguson
Writers:
Chad Beck (co-writer), Adam Bolt (co-writer)
Cast:
Matt Damon (Narrator)
Tagline: The film that cost $20,000,000,000,000 to make.
Genres: Documentary
Rating: PG-13 for some drug and sex-related material.
Release Date: 1 October 2010 (USA)
Producer/director Charles Ferguson (No End in Sight) speaks at length with journalists, politicians, and financial insiders in order to offer a clearer picture of the economic meltdown that hit America starting in 2008. Academy Award winner Matt Damon  narrates this unflinching look at the deep-rooted corruption that has left millions of middle-class Americans jobless and homeless as the major corporations get bailed out while paying millions in bonuses.
Inside Job is the first film to provide a comprehensive analysis of the global financial crisis of 2008, which at a cost over $20 trillion, caused millions of people to lose their jobs and homes in the worst recession since the Great Depression, and nearly resulted in a global financial collapse. Through exhaustive research and extensive interviews with key financial insiders, politicians, journalists, and academics, the film traces the rise of a rogue industry which has corrupted politics, regulation, and academia. It was made on location in the United States, Iceland, England, France, Singapore, and China.
See you at the movies!
Sources:
"The Social Network (2010) Plot and Synopsis"
"Let Me In Plot and Synopsis"
"Inside Job (2010)"
"Saw 3D Plot and Synopsis"
"Let Me In (2010)"
"Red (2010) Plot and Synopsis"
"Saw 3D (2010)"
"Inside Job (2010) Plot and Synopsis"
"Red (2010)"
"The Social Network (2010)"
.
Related posts: