Nov23
Sucker Punch (2011) is a move from Zack Snyder you don't want to miss. In his upcoming action/fantasy movie, Snyder once again defies the rules of physics. Fire-breathing dragons, giant robots, samurai warriors, and sexy girls wielding weapons of their choice, come together in a single movie. Looks like it's going to be one of the biggest visual feasts of summer 2011.
Zachary Edward Snyder was born in Wisconsin, on 1 March 1966. Snyder started his career as director for TV commercials for clients like BMW, Nike, Audi, and Reebok. In 2004, he co-founded Cruel and Unusual Films, alongside his wife, Deborah Snyder, and producing partner, Wesley Coller.
Zack Snyder have only made four movies so far, and you know all of them. His debut on 2004 was a remake of George A. Romero's Dawn of the Dead. Named one of the best zombie movie remakes, Snyder earned fast recognition with this movie's success in Hollywood. His next project was 300 (2007), the first movie to show Snyder's future film making style. Beautiful graphics and action packed battle between King Leonidas and Xerxes secured Snyder his first box-office hit. He continued his success streak with Watchmen (2009). With two consecutive blockbuster from comic adaptation, Snyder gained a lot of new fans from comic book readers. His latest movie, Legend of the Guardians: The Owls of Ga'Hoole (2010) was a book adaptation from Kathryn Lasky's works. The movie only generated a lukewarm acceptance, but Snyder's first take on an animated feature was much admired, again, because of his breathtaking visual approach. So, one remake, two comic adaptations, and a book adaptation. What will Snyder shoot next?
Sucker Punch brought us the story of Baby Doll (Emily Browning). Set in the 50′s, Baby Doll was insitutionalized against her will at Lennox House for the Mentally Insane by her violent and abusive stepfather. Knowing that her fate will end at a surgery room, Baby Doll planned her escape from the scheduled lobotomy. She gathered four other young girls—the outspoken Rocket (Jena Malone), the street-smart Blondie (Vanessa Hudgens), the fiercely loyal Amber (Jamie Chung) and the reluctant Sweet Pea (Abbie Cornish) to devise an escape plan from the institution.
So, where does the dragons came from? To free herself from Lennox House, Baby Doll envisioned an alternate reality where the hospital has transformed into a brothel, and instead of the looming threat of a lobotomy, a man known as the High Roller (Jon Hamm) will arrive in five days to deflower Baby Doll. The girl ventured into another alternate world where she's told that she can save herself if she defeats a flurry of  deadly enemies and claims a selection of prized artifacts in the process. Ah, now we get it.
Some of the girls from Sucker Punch are not familiar to most audiences, so, we're gonna introduce them all for you.
These are Five Things' about the five deadly girls of Sucker Punch (2011).
1. Jena Malone
Jena Malone has a long list of filmography, despite her young age. She played small roles on movies like Contact (1997), Donnie Darko (2001), Cold Mountain (2003), Pride and Prejudice (2005), and Into The Wild (2007). She was born in Nevada, on 21 November 1984. She began taking an interest in acting after watching her mother, who was involved in community theatre. She was nominated for Satellite Award, Saturn Award, Screen Actors Guild Award, and Golden Globe in her roles in various movies. In Sucker Punch, she played as Rocket.
2. Vanessa Hudgens
Vanessa Anne Hudgens is well known for her role as Gabriella Montez in High School Musical series. The American actress and singer first appeared in a theatrical film on Thirteen (2003) as Noel alongside Evan Rachel Wood. She was born in California, on 14 December 1988. Hudgens came from a mixed cultural background. Her father is part Irish and Native American, while her mother is of Chinese-Filipino-Spanish descent. On September 2006, her debut album, V, was released. Her second album, Identified, was released on July 2008. Both generate favorable reviews. In Sucker Punch, she played as Blondie.
3. Jamie Chung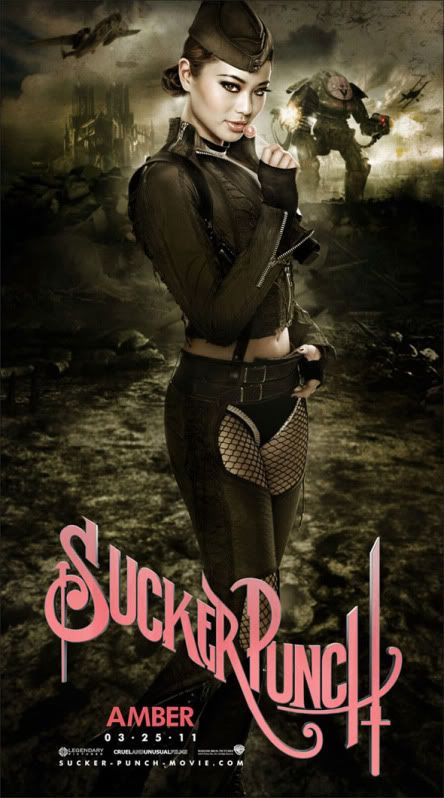 Jamie Jilynn Chung first seen on-screen as a cast member of The Real World: San Diego, an MTV reality television series. She was born in California, on 10 April 1983. Chung who was described as, "a hard-working student who worked two jobs to pay her tuition, but who also enjoyed partying" made more appearance on the silver screen in movies like I Now Pronounce You Chuck And Larry (2007), Dragonball Evolution (2009) and Sorority Row (2009). In Sucker Punch, she played the role of Amber.
4. Abbie Cornish
Abbie Cornish was born in New South Wales, on 7 August 1982. The Australian actress starts her career at the age of thirteen as a model. She received the Australian Film Institute Award for Best Actress in a Leading Role, Best Actress at the FCCA and IF Awards and Best Breakthrough Performance at the 2005 Miami International Film Festival for her role in 2004′s Somersault, the film which raised her to international prominence. In Sucker Punch, she played the role of Sweet Pea.
5. Emily Browning
Emily Jane Browning was known for her role as Violet Baudelaire in Lemony Snicket's A Series of Unfortunate Events. The Australian actress was born on 7 December 1988. Browning was nearly auditioned for the role of Bella Swan in Twilight, but she rejected the offer despite the endorsement coming from Stephenie Meyer, the book author from which the movie was based on. In Sucker Punch (2011) she played as Baby Doll, an institutionalized girl trying to escape a scheduled lobotomy. Browning replaced Amanda Seyfried who dropped out from the role due to scheduling conflict. For the role as Baby Doll, Browning bleached her hair platinum blonde, and she will also sing in the upcoming film.
That's it from Five Things. Sucker Punch is scheduled for release on March 25, 2011. Looks like bloodbath will happen in summer 2011, with so many big movies sinking their teeth in the same time. Let's see if Snyder will beat all the predicted champs with his Sucker Punch.
Sources:
Sucker Punch | The Set Visit Preview
Vanessa Hudgens: 'Sucker Punch' Trailer is Here!
Sucker Punch
Zack Snyder's Sucker Punch Rocks the Girl Power
'Sucker Punch' trailer: 'You have all the weapons you need!'
'Sucker Punch': The First Trailer
Sucker Punch (film)
Zack Snyder
Emily Browning
Vanessa Hudgens
Jena Malone
Abbie Cornish
Jamie Chung
Related posts: