Jul8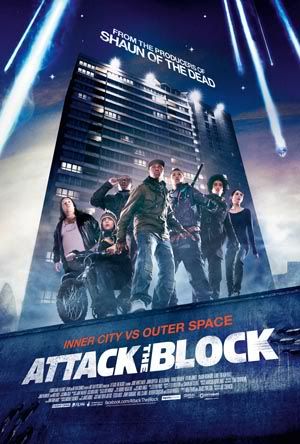 Actions have consequences. Joe Cornish sends out his message with a bang with his gripping debut, Attack the Block (2011). When Edgar Wright, Simon Pegg and Nick Frost appear in 2004 with the British comedy, Shaun of the Dead, zombies are the world's newest villain. Now, with entries like Super 8, Green Lantern, Battle: Los Angeles, I Am Number Four and the upcoming Cowboys & Aliens, extraterrestrial beings are the world's newest baddies. Cornish, Wright, and Frost couldn't agree more.
Attack the Block received rave reviews mainly because it was such a great debut for a lot of first timers (for the director, writer, and actors alike). The last notable directorial debut in the sci-fi genre came from Neill Blomkamp with District 9 (2009). Although District 9 offers a more powerful and multi-layered story, Joe Cornish's alien flick is not to be taken lightly. Attack the Block combines a strong take on genre mash-up, paired with fast-paced action sequences and a tight script. It could have been developed into something darker or funnier, but Cornish chose to balance the scale, keeping Attack the Block from going too geeky, too fluffy, or too scary. It will not satisfy everyone who watch it, but it is agreeably, one of the most entertaining movies in theaters today.
That's an Alien Bruv, Believe It
Because it's not your average Hollywood sci-fi movie, Attack the Block boldly escapes the cliché, opening the movie by introducing you to five hooded South London boys, mugging a helpless woman that passes by the neighborhood. The five teenage boys are nowhere near likeable and definitely not the hero type. The pack, Dennis (Franz Drameh), Jerome (Leeon Jones), Biggz (Simon Howard), and Pest (Alex Esmail), are led by Moses. Moses was impressively played by John Boyega, showcasing a strong performance that reminds you of character actor like Denzel Washington. The helpless victim, Sam (Jodie Whittaker), lost her belongings, but she was saved when a flying object crashed on a car near them. A strange-looking creature emerged from the crash and attacked Moses. The creature managed to run away, but Moses, looking for revenge over his scratched face, chased and killed it with the rest of the gang. Unable to identify what they have just killed, they took it to Ron (Nick Frost), the local drug dealer.
In Ron's apartment, they met Brewis (Luke Treadaway), the smart albeit stoned costumer of Ron's, who explained that the creature they killed is nothing like anything he have studied in school and it might just be an extraterrestrial being. Thinking that the alien corpse might be valuable, they asked Ron's boss, Hi-Hatz (Jumayn Hunter), if they could keep it in the "weed room", and he said okay.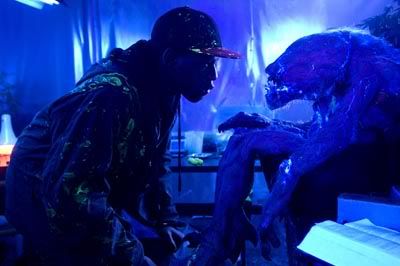 Meanwhile, more flying objects are crashing into the neighborhood. The boys, eager to kill more aliens, fled to one of the crash sites. The alien they found in the crash site turns out to be a lot different than the one they have killed, much bigger and looked like a vicious gorilla. Soon, the black-furred and sharp-toothed alien regains its consciousness and began chasing them. Unfortunately, on their way to safety, the group met two cops and Sam, who have reported the mugging. Moses was arrested and taken in the car, but when he and Sam was inside the car, the alien attacked the police officers and killed them. Unable to see their leader getting chewed to death by aliens, the gang rescued him and Sam, running off from more of the black-furred terrors.
They all went back to the apartment building and make a stand in the neighborhood they know so well, defending themselves with just about anything that can be turned into weapons (knife, samurai sword, baseball bats, fireworks, etc). As they realize that they are the aliens' primary target, they began to wonder. Was it something they've done? Was it an act of revenge for killing a member of the alien pack? Will Moses pay for spilling some alien blood? What if they failed to kill the aliens? Will they attack the neighborhood and kill everyone they know? The story unravels more back story of each characters and transform them from a pack of juvenile delinquents to heroes of the block and the world. Actions have consequences, and redemption is in order.
Welcome to London, Brother
Joe Cornish had always been fascinated by the idea of an alien attack, but it was a bad experience in 2001 that had led him to shape stories and characters into his directorial debut. "A gang of quite young kids nicked my wallet and phone through sheer force of numbers. I'm a typical coward and I gave them everything," he recalls. "I've always loved the idea of a siege, and humans on earth under siege by aliens, and it struck me: what would happen if that happened in my neighborhood where I grew up, in South London? Then I thought, what would happen if something like that went down during my mugging? Those kids who some people are frightened of would suddenly become quite important – suddenly all their strengths would be usable for a good reason. It went from there, really."
Hence, Attack the Block opens with a mugging scene, something that is quite extraordinary for a character introduction. In movies, we're used to protagonists and heroes that are typically good and well-mannered, but Cornish challenged himself and shape the good guys with plot developments and a series of actions that made them earn the hero title as the movie progressed. "That was a fun thing to write, the challenge of trying to turn your empathy around over the period of the film," Cornish explained.
The cast of Attack the Block consists of relative newcomers. Casting a lot of actors with minimum experiences is very risky, but Cornish managed to turn skepticism into praise. Moses' strong presence, paired with other characters like Pest the lovable motormouth, the cool Dennis, the smart Jerome, and the youngest member of the pack, Biggz creates a uniqueness to the group's dynamics and their way to survive.
The choice to create action-heavy sequences also contributes to what makes the movie so entertaining. Cornish admitted that he was influenced by John Carpenter's style, and that gives him a good idea of the sort of film he wanted to make. "More like a John Carpenter movie, or a sort of early low-budget high-concept 80s monster action film, really," he says. "It's definitely influenced by Carpenter, trying to be a little minimal with dialogue and make it a bit less dialogue-driven than your average British film and make it about kinetics and action and movement."
Although the sci-fi flick comes with a mix of comedic tone, the level of danger presented in the movie is high in the horror scale. Cornish's quadrupedal aliens are fast, alert, and deadly. Each passing minutes, the body counts are adding up little by little, putting a tragic end to the characters you're starting to like.
Ultimately, Attack the Block managed to entertain us with a tale of survival. It is a story of friendship, bravery, and sacrifice that comes from unexpected sources and characters. We are reminded that even when we are becoming the victim of other people's actions, we can choose not to become the victim of our own. Besides, if the aliens took the only place you can call home, where else are you going to go?
These are five things about Attack the Block (2011):
1. Joe Cornish
Joe Cornish is best known as Adam Buxton's partner in British comedy duo Adam and Joe. He first appeared on British TV screens in 1997 as co-star and co-creator of The Adam and Joe Show, a home-made comedy show famous for its sketches, songs and animations satirizing pop culture. The show was critically acclaimed, winning the Royal Television Society's Best Newcomers award in 1998. Cornish recently co-wrote The Astonishing Ant Man and The Adventures of Tintin: Secret of the Unicorn. Alongside his film work, he maintains a successful radio career with Adam. The duo took over from Ricky Gervais on radio station XFM in 2003, spawning a popular series of podcasts. They moved to BBC 6music in 2007, where their Saturday morning show was awarded the 2008 Broadcasting Press Guild Award for Radio Programme Of The Year, three Silver Sony Awards in 2009, and Sony Gold for Best Radio Comedy in 2010.
2. Rich References
It is not hard to identify some elements from Cornish's movie that reminds us of classic sci-fis like ET, Alien, Gremlins, Critters, etc. People who grew up watching these movies will found themselves thoroughly entertained by the rich references. It doesn't only encompass movies. Cornish also tried hard to keep the script real and put up believable teen characters. The boys can be heard referencing to Pokemon ("Gotta catch 'em all!), Naruto, Ghostbusters ("You'd better off calling the Ghostbusters, love."), or FIFA. He also insists that the characters would sound as realistic as possible, taking dialogues straight from the streets and estates he'd grown up around in South London.
3. The Brit List
The Brit List is the equivalent of Hollywood's Black List. It is a list of the best unproduced scripts from the UK. Attack the Block had also been included in the prestigious list, and it's good to know that while most of the scripts in the list never got greenlighted, Attack the Block managed to found its way to the big screen. Famous titles from the Brit List also include movies like Nowhere Boy and The Men Who Stare at Goats.
4. The Geek Factor
Attack the Block first captured the attention of geeks when it was premiered in North America in SXSW 2011. Fans of Shaun of the Dead are aware that there are two movies that are supported by the people that made the movie. Paul (2011) failed to impress, but Attack the Block (2011) managed to won the heart of many attending geeks, and it also ended up winning the Audience Award for Midnight/SX Fantastic category in SXSW 2011 and Audience Award for Best Narrative Feature in Los Angeles Film Festival 2011.
5. Social Commentary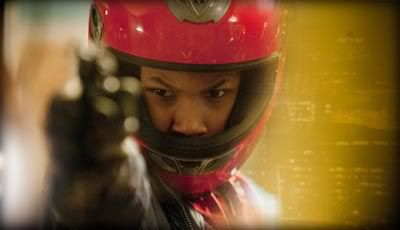 Between his efforts to deliver an enjoyable movie, scaring the audience, and making them laugh, Cornish also thrown out various social commentaries here and there. Another bold move that he did was casting black people as the protagonists. Through Moses, he also expressed his paranoid remark about the dark side of being a minority, "The government bred these creatures to kill black boys." The financial standings of the character were also expressed through minor details (low cellphone credits, cheap ring, and expensive cars). He also commented on Sam's boyfriend who went to Ghana to help people, while there are a lot of people in the country that could also use the help. It doesn't get to the point of being preachy, but Cornish showed that he wanted to do things differently when he chose the South London set and wrote the characters.
Note: Thank you to MT Entertainment for inviting Five Things to Attack the Block (2011) screening. This is not a paid review. The views expressed in this post are not influenced by external sources. MT Entertainment (PT Cipta Mutu Entertainment) is a movie distributor. It distributes more than 500 titles, varies from western family movies, popular Japanese animations, Chinese martial arts actions, to Thailand horrors.
Related posts: